Hotels in Varkala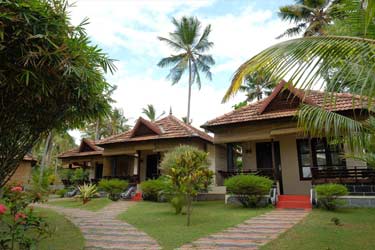 A calm and quiet hamlet, Varkala is situated on the outskirts of Thruvananthapuram district. Boasting of several tourist attractions, Varkala has a beautiful beach, and a 2000 year old Vishnu Temple and the Ashramam Sivagiri Mutt. A dip in the holy waters at this beach is believed to purge the body of impurities and the soul of all sins; hence the name 'Papanasam Beach'. Offering excellent accommodation for tourists, Varkala is fast becoming a popular health resort with various Ayurvedic massage centres. Let's take a look at some of the popular hotels of Varkala.
Maadathil Cottages
Featuring a restaurant and terrace, Maadathil Cottages offer a relaxed stay to the guests. The in-house restaurant at Maadathil serves Indian, Continental and local dishes. It is among the favourite accommodations in Varkala.
Krishnatheeram Ayur Holy Beach Resorts
Krishnatheeram Ayur Holy Beach Resorts offer comfortable air-conditioned rooms housed in thatched roof buildings. The resort also features a yoga meditation centre and Ayurvedic spa services. There is an in-house salon, business centre and a tour desk.
Villa Jacaranda
This retreat has four spacious, bright rooms in a large two-storey house, each with a balcony and decorated with a chic blend of minimalist modern and period touches. The amazing top-floor room has its own rooftop garden with sea views.
Eden Garden
The rooms at Eden Garden have high wooden ceilings and attractive furnitures, set around a lush lily pond. The hotel houses bamboo cottages and deluxe cottages to offer the guests a luxurious stay.
Palm Tree Heritage
Palm Tree Heritage is the perfect place to explore and enjoy the Varkala's backpacker scene. Well equipped with neatly furnished rooms, the hotel offers a relaxing stay.
Other popular hotels in Varkala are ?
InDa Hotel
Kerala Bamboo House
European Lounge
The Villa Varkala