Cochin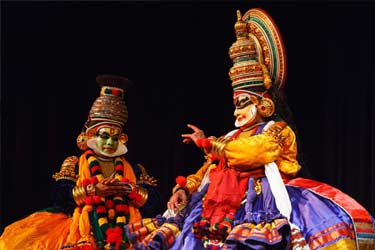 Cochin beautifully reflects the cultures and natural charms of Kerala. The city surprises visitors with its wonderful list of lures, including stunning beaches, beaming backwaters, superb cuisines and thrilling festivals. Cochin has a flourishing thriving port business which attracts many traders here. No matter what you like, this city will definitely impress you with its exotic holiday elements which will keep you hooked forever.
Mattancherry Palace
Do explore the Mattancherry Palace here built by the Portuguese in 1557. Also known with the name of Dutch Palace, it has a beautiful architecture resembling a typical Kerala house. It features a courtyard in the centre with a temple of Bhagavati. The extensive gardens and manicured lawns around the palace look jaw dropping.
Indo-Portuguese Museum
Another historic wonder of Cochin is the Indo-Portuguese Museum perfectly fusing together Indian and Portuguese cultures. The museum has 5 wings displaying Altar of Furniture, Treasure, Procession, Civil Life and Cathedral.
Paradesi Synagogue
The beauty of Paradesi Synagogue, a Jewish church, is worth cherishing in Cochin. The church was raised in 1568 and is home to some rare and appreciated antiques, including silver and gold crowns, chandeliers, hand-woven oriental carpet, etc.
Hill Palace
Visit the heritage museum of Hill Palace of Cochin where numerous relics and majestic belongings of the Maharaja of Kochi have been displayed. It is surrounded with beautiful gardens and lures every visitor with its diversified exhibits like Kudakkallu, Thoppikkallu, rock-cut armaments, wooden temple replicas, etc.
Kerala Folklore Theatre and Museum
If you have a keenness for folk-tribal objects, then plan a trip to the Kerala Folklore Theatre and Museum in Cochin. This 3 storeyed building houses astonishing displays like traditional Kathakali masks, sculptures, musical instruments, ornaments, costumes, etc.
Mangalavanam Bird Sanctuary
There is no dearth of Mother Nature in Cochin. The Mangalavanam Bird Sanctuary here is a heaven for nature enthusiasts and bird-lovers. Here you can spend hours cherishing the views of over 194 birds of 32 species. Some of the most beautiful birds which are spotted here include redshank, greenshank, brahminy kite, white breasted water hen and marsh sandpiper.
Cherai Beach
If you are a beach lover, then Cherai Beach is your paradise. This perfect looking beach has golden sands, exciting beach shacks and plenty of sea shells to collect. From here you can relish views of backwater and fishing nets which make you believe that you are in Kerala.
Veeranpuzha Beach
Veeranpuzha Beach flaunts the most stunning sunsets with a perfect coastal topography. It assures seamless calmness where you can spend some quality time with your loved ones.