Thrissur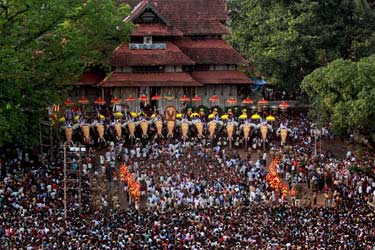 Thrissur is rightly termed as the cultural capital of Kerala. Here resides a melange of performing arts, religious sites, colourful Thrissur Pooram festival and dynamic history of Kerala. Thrissur celebrates its festivals with great fervour. People visit here and get awestruck by its natural charms which make it a priceless gem of this God's Own Country.? The architectural brilliance found in Thrissur cannot be found anywhere else. You will explore some of the most beautiful looking temples, churches and palaces here.
Vadakkunnathan Temple
Every holiday to Thrissur starts by visiting the Vadakkunnathan Temple. This is the oldest temple dedicated to Lord Shiva in Kerala. Its splendid architecture and incredible looking murals are worth exploring and it lures travellers from all over the country seeking the cultural aspect of Kerala.
Shakthan Thampuran Palace
Shakthan Thampuran Palace remains on the itinerary of every traveller visiting here. It was raised in 1791 by Raja Rama Varma IC. The palace has a beautiful Dutch-style architecture which makes it a delight for every photographer. There is also a small museum displaying antiquities and old relics.
Basilica of Our Lady of Dolours
The only sight of Basilica of Our Lady of Dolours makes many jaws drop due to its heavenly architecture. The shrine has many legends of faith and love behind it. Visit here to spend some time in the lap of peace and enjoy its incredible beauty. ??
Thrissur Zoo and State Museum
Thrissur Zoo and State Museum is located just in the centre of the city. The zoo is blessed with stunning flora and fauna which charm visitors. The museum has some artefacts which take you deep into the memory lane. The place is loved by family vacationers travelling with kids.
Athirappilly Waterfalls
Athirapally Falls is perhaps the most beautiful spot to relish the charms of nature. It cascades from a height of 80 feet and is 330 feet wide. Anamudi Mountains, from where the waterfalls originate, flourish with abundance of greenery and make a calm place to meditate. ??
Guruvayur Sree Krishna Temple
This temple has both religious as well as historical significance. Dedicated to Hindu God Guruvayurappan, the temple flaunts unmatched architectural beauty apart from tiny crafts displayed inside.?? The temple features a Punnathur kotta elephant yard where over 56 elephants belonging to the temple stay.