Kerala Beaches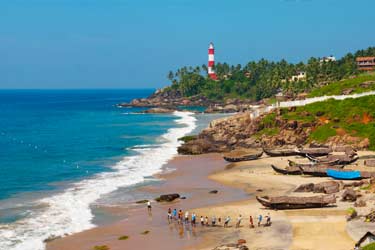 Kerala houses a number of spectacular beaches that is bound to leave you in awe. Being a coastal state, the most popular tourist destinations in Kerala are beaches like Kovalam, Varkala, Chowara, Chavakkad, Nattika, Cherai, Kizhunna, Poovar etc. With exotic resorts and hotels, Kerala is every travellers dream place to relax, take sunbath, swim or simply enjoy the view. Famed for its backwaters, beaches and coconut trees, there is a beach for every type of traveler. There are plenty of coastal destinations in Kerala for beach lovers.
Marari Beach
Located in the Alleppey district, the Marari Beach is the ideal choice to spend the vacation. With coconut trees lining the white sandy shore in the beach, Marari Beach is of the 'endless-golden-sands-where-you-won't -see-a-soul' variety, usually touted for their peace and quiet of beaches. It is an endless vista of sand and surf. Marari offers endless miles of empty sands and coconut trees by the sea side, virgin territory where you can experience to local charm and traditional keralan hospitality at its best.
Kovalam Beach
Placed snugly in the southern part of Kerala, Kovalam has created its presence fingered on the worldwide tourist map, due to its clean and bizarre beaches lined with glittering sand and tall light houses. Kovalam has a more relaxed atmosphere than Goan beaches with a bit more laid back attitude, the food a touch softer and lighter.
Alleppey Beach
Famous for its backwaters, houseboats, fishing and coir industry, Alleppey is known as the Venice of the East. Alleppey beach, boasting a 137 years old pier which extends into the sea, is a popular tourist spot in Kerala. The beach has a lighthouse and the entertainment facilities at the Vijaya Beach Park are also popular.
Vizhinjam Beach
One of the most famous fishing harbours in Kerala, Vizhinjam is where one can watch fishermen venturing into the distant sea at dawn. Marine aquarium in Vizhinjam which displays squirrelfish, piranhas, lionfish, surgeonfish , clownfish, giant turtles, moon wrasse, butterfly fish, trigger fish and sharks as well as rock- cut temple of 18th century are tourist attractions in Vizhinjam besides Beach.
Bekal Beach
Bekal Beach is a lovely beach with the palm fringed surroundings and a great view of the Bekal Fort. The beach is really long and clean but is safe for swimming. There is also adjacent park and play area and zoo for kids as well in Bekal. The rocks around the Bekal Fort in the sea are a fantastic place to sit and relax in the evenings.
Chowara Beach
Chowara Beach is a long white sandy beach near Kovalam where one can see lines of fishermen pulling in their nets while watching gorgeous sunsets. The beach is relatively clean and less crowded than Kovalam and Varkala beaches in Trivandrum. The best experience in the beach is early morning trips to watch the fishermen land their catch then auction it off.