Kasargod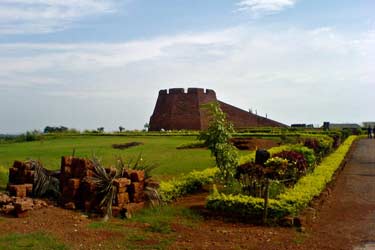 Kasargod is a tiny town located on the sea coast. It brings out a beautiful mix of religions, culture and unmatched nature all around. Though the size of Kasargod is small, you can find many royal forts, lofty hills, twisty rivers and shimmering beaches here. Kasargod is blessed with a rich past which can be seen in the form of its best preserved forts. The diversity of art and culture found here is impressive, and it is also known for its flourishing coir and handloom industry.
Bekal Fort
This historic fort is almost 300 years old. The Arabian Sea surrounding the fort adds to its beauty. In earlier days, people used to catch the action in the sea from the observation tower of the fort.? It was raised by Shivappa Nayaka solely to defend Bednore in the year 1650. It still narrates many stories belonging to those times and remains one of the most preserved forts in Kerala.
Ananthapura Lake Temple
This is the only lake temple in Kerala. It was the original seat of Ananth Padmanabha Swami in the small village of Ananthapura. The temple is made out of a giant rock with numerous mural painting on the walls. Interiors of the temple lead to a pond.
Hosdurg Fort
Hosdurg Fort is a landmark place in Kanhangad. The round bastions in the fort can be spotted from a distance as well. South-western part of the fort has the Karpooreshwara temple built by the Nayaks. Streams of travellers visit here every year due to its historical, religious and natural wonders.
Thaikadappuram Beach
Beach buffs must head towards the Thaikadappuram beach, 40 km south of Kasaragod. The beach is well-known for the rare Olive Ridley Turtles that visit here during monsoons to lay eggs. This place must be visited between September and January.
Kareem Forest Park
Kareem Forest Park spreads over an area of 32 acres at Puliyamkulam. It is the only man-made forest in the state and remains the best example of forest conservation. It is a great place for nature lovers who visit here to enjoy nature walks, bird watching and spotting some unusual flora.