Alleppey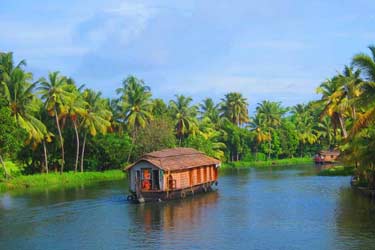 Alleppey, often termed as the "Venice of the East", is a beautiful town in Kerala. Travellers often visit here to unwind amidst ample of nature and to explore the beautiful cultures of Kerala residing here in every corner. Alleppey is world renowned for its backwater canals, pristine beaches, paddy fields and lagoons.
Alleppey Beach
Alleppey Beach remains the very first place to visit in the town. This beach is perfect to experience the wonders of nature like swinging palm trees, white sandy shores, perfect ambience and a jovial sun. If lucky, you can also spot dolphins from the coastline.
Marari Beach
Marari Beach is loved for its calming beach resorts and Ayurvedic centres offering a range of rejuvenating therapies. Also spend some time at the Vembanad Lake, India's longest and Kerala's biggest lake. The lake is rich in biodiversity and has a flourishing marine, bird and animal life. The lake hosts the annual snake boat racing where thousands of locals and travellers participate.
Karumadikkuttan
Alleppey has beautiful ancient wonders which talk about the place's amazing history. Karumadikkuttan, belonging to the 9th century, is a black granite statue of Buddha with great significance. The Statue lacks its complete left half but is now under the management of the Kerala State Government.
Mannarasala Temple
Visit the Mannarasala Temple dedicated to the Hindu deity Nagaraja. This is one of the most visited temples in Kerala and is known for its architecture too. The temple has 30,000 images of various mythical snakes which catch the attention of all visitors. Another Hindu temple of the town is Mullakkal Bhagavathy Temple, dedicated to Goddess Rajarajeswari. The temple stands out due to its unique architectural style. The image of the deity here does not have any roof.
Alleppey's Krishnapuram Palace
Alleppey's Krishnapuram Palace also charms visitors with its iconic Travancore style. This castle was constructed by Anizham Thirunal Marthanda Varma in the 18th century. Today it houses a museum maintained by the Archaeological department of Kerala where many antiquities belonging to the Travancore era have been displayed.
Alleppey Backwaters
No trip to Alleppey ever ends without exploring its charismatic backwaters. Here you can find many houseboats which take you on a beautiful experience amidst nature. Travellers never miss a chance to explore the backwaters of Alleppey which give ample of tranquillity to them.