Guruvayur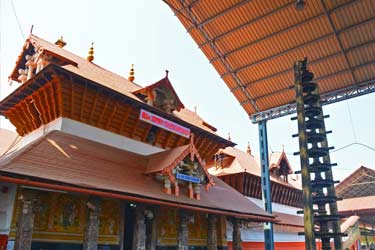 Guruvayur remains a top pilgrimage destination in Kerala. This is a pristine town in the district of Thrissur. It has earned its popularity due to the Guruvayoor Temple- India's third largest temple dedicated to Lord Krishna. Every local here can be heard saying Krishna Guruvayoorappa. The temple remains one of the 108 most heavenly Vishnu temples on the planet. The town displays rich cultural heritage of the state and brings pilgrims from all over the world here.
Punnathurkotta Elephant Palace
This palace is located just 3 km away from the Western Gate of the main Guruvayoor temple. This is a majestic looking mansion with rich courtyards made out of the ruins of the Punathur. The palace houses 65 elephants that participate only during temple processions and religious ceremonies. Many of these elephants are popular and have a huge fan-following.
Guruvayoor temple
Guruvayur Sree Krishna Temple is one of the most popular religious pilgrim hubs in Kerala. This ancient temple is dedicated to Mahavishnu who is worshipped here in the form of Balakrishna. It is said that this temple was raised by the preceptors of the Gods, Guru and God of winds, Vayu. Pilgrims visit here to delve into the spirituality and serenity of the place. The temple is accessible only by those who believe in Hindu faith. ?
Mammiyoor Shiva Temple
Mammiyoor Shiva Temple houses large murals and is dedicated to Lord Shiva. It is said that initially Guruvayur temple was dedicated to Lord Shiva but then the lord decided to relocate to the Mammiyoor Shiva Temple. Thus, every pilgrim visiting this temple surely visit Guruvayoor temple as well. ?
Institute of Mural Painting
This institute was founded by the famous artist of mural painting, Shri Mammiyoor Krishnankutty. It was laid in the year 1989 and offers you a chance to explore Kerala style mural paintings, aesthetics, sculpture and art.
Punnathur Kotta Elephant Sanctuary
Being home to more than 60 elephants, Punnathur Kotta Elephant Sanctuary is all about being in the lap of nature. This remains one of the biggest elephant sanctuaries in India. In this Sanctuary elephants are trained to partake in major processions and temple rituals. Visit here and enjoy feeding elephants and clicking some amazing pictures with them.