Kerala Adventure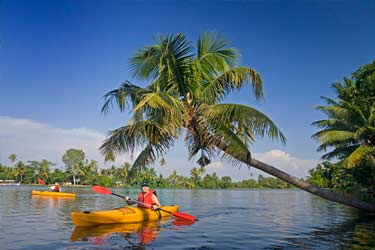 One of the most happening destinations of India, Kerala is blessed with natural beauty as well as various adventure destinations. This beautiful land houses different adventure packed destinations, be it the high altitude mountain ranges, gushing rivers, deep dark forests or the vast stretches of the sea. Some of the adventure activities to try in Kerala are aquatic sports, wildlife treks, and paragliding. Kerala boasts of rocky terrains, rolling hills, deep gorges and thunderous rapids, making it a wonderful landscape to dive into the depths and heights of adventure.
Let's take a look at some of the adventure activities one can try when in Kerala-
Bamboo Rafting
Bamboo Rafting at Periyar Tiger Reserve, Thekkady in Kerala is something you shouldn't miss if you are a nature lover. Along with rafting, one can also enjoy the enchanting beauty of the forests where you relaxingly move in the bamboo whilst watching the arboreal animals. Traverse through the forest areas as you raft and listen to the sound of chirping birds. The same can be enjoyed at Wayanad too!
Canoeing and Kayaking
If experiencing the culture of Kerala is what you are here for, you cannot miss to go on Kayaking and canoeing. Various kayaking opportunities are available for visitors in Kerala. The incomparable beauty of the backwaters and mesmerizing dense foliage beyond it can be enjoyed through a kayak tour.
Trekking
Take a walk along the forests at Thekkady along the tiger trail. Expert guides are also available that help you spot animals during the trek. Cooking in the jungle while sleeping in the tent are few added activities that one can try while trekking. Enjoying the view of the mysterious forests of Kerala is something one shouldn't miss.
Mountain Climbing
There are some spots where the mountain lovers can enjoy mountain climbing. Chembra Peak in Wayanad is a popular point for the sport. It takes one entire day to climb the mountain and one also needs to apply proper sun block and mosquito repellent while climbing. Of course, snacks and water are other must-carry items. The climb can be steep, rough, and you will have to suffer through mist obstructing the view.
Wildlife Safari
A wonderful tour of Kerala's wildlife will definitely fill you with amazement. The biodiversity of the country and the beautiful flora and fauna will raise a deep sense of confidence in you. The view will make you realise the importance of protecting the natural beauty, without which, mankind will be extinguished. Both day and nocturnal safaris are available for the tourists to enjoy.