About Kerala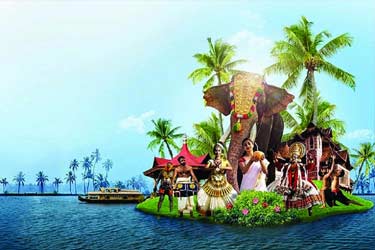 Call it the land of coconut, or God's own country, Kerala with its sun blanched beaches, enchanting backwaters, rich diversity of flora and fauna, and misty mountains is truly heaven on Earth. According to popular beliefs, Kerala rose up from the sea when Lord Parasurama threw his axe into it and the sea receded to bring up this narrow strip of land from underneath. Kerala is a dream destination for the travelers who seek solace. Selfishly blessed with more than its fair share of scenic vistas, pristine beaches, calm backwaters and relaxing landscapes are some of the attractions of Kerala.
People, Heritage & Culture in Kerala???
Kerala holds a rich cultural heritage depicting in the state's cuisines, dance and art forms. Kathakali, a 300-year-old dance, plays an integral role in the festivities of the state. Other famous dance forms of the state include Krishnanattom, Mohiniyattom, Thullal, Koodiyattom, Kolkkali, Thiruvathirakali, Kakkarishi Natakom, Oppanna and Chavittunatakom.
The locals of Kerala, often called as Malayalis, are deeply rooted to their cultural heritage, boasting a mix of both Indian and Dravidian culture.
Fairs & Festivals in Kerala?
Kerala is famous for its boat races, for instance Rajiv Gandhi Boat Race, Nehru Trophy Boat Race and Aranmula Vallamkali. The boat races of Kerala exhibit the fervor of the locals towards their festivals and also reflect their rich culture and rituals.
The most popular festival of Kerala is Onam, which is celebrated for ten days. The rituals during the festival usually include flower decorations, rangoli making, elephant processions, classical and folk music concerts & dance performances, fireworks, etc. In addition to this, travellers can also partake in Vishu (the astrological New Year of Kerala), Thrissur Pooram and Makaravilakku to see a whole new facade of this culturally blessed state.
Shopping in Kerala?
The popular Banana Chips of Kerala can be found in each and every shop here. Cities like Kochi, Trivandrum etc can be explored for shopping. The state is known for its gold, and majority of the markets remain flooded with jewellery shops selling delicately made ornaments. The state's sarees, ivory carvings, pottery, brocade fabrics, Kathakali Mask and earthenware products remain popular among the visitors.
Food in Kerala?
Rice and cassava (Tapioca) is the staple food of Kerala. The locals also enjoy Karimeen pollichathu (Pearl spot fish marinated in local spices). Malabar Parotta with Kerala beef curry (layered flat bread with beef curry) is another delicious dish. Being a coastal destination, the state is extremely popular for its sea food and thus, Kerala prawn curry is a must try dish. Those with sweet tooth can grab Palada payasam (sweet rice kheer) and Banana fritters to treat their taste buds.
Weather Conditions in Kerala?
March to May marks the summer season in Kerala and remains extremely hot and humid. Monsoon hits Kerala between June and August, and it is perhaps the best time to unveil the real beauty residing here while indulging in some relaxing Ayurvedic treatments. September to March is the peak season when the weather turns pleasant to relish beaches, hill stations and backwaters of Kerala.
How to Reach Kerala?
Thiruvananthapuram airport connects the state with all major Indian metropolises, including Delhi, Bangalore, Chennai and Mumbai. The airport also enjoys great connectivity with many of the gulf countries. Kochi International Airport located in the central part of Kerala is another major airport of Kerala. Up North, Calicut International Airport is also connected to both India as well as international cities via flights.
Indian Railways is another option to visit this beautiful destination. Kerala boasts over 200 stations, making it easy for the travellers to access all the locations.
Roads in Kerala are extremely beautiful, and road journeys can be enjoyed by taking state buses, cars and tourist taxis. Neighbouring states like Andhra Pradesh, Karnataka and Tamil Nadu are well linked with Kerala via road.