Kerala Beach Resorts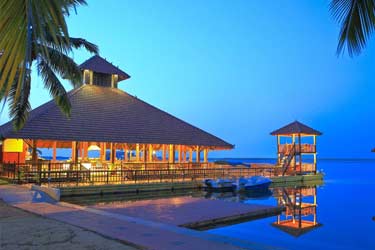 A beautiful place situated on the south western coast of India, Kerala is a land full of wonders where tourists from all across the world come to enjoy the natural beauty. The main attraction of Kerala is its beaches, due to its charm and beauty. The palm lined beaches of Kerala with blue waters, affixed by lavish sea food cuisine, cordially invites everyone to this beautiful state. The tranquility of the beaches can be best explored with equally amazing beach resorts. Let's sneak a peek at some of the finest beach resorts of Kerala ?
Beach Resorts at Kovalam Beach
Ashoka Beach Resort
Nestled at the southern part of the beautiful Malabar Coast, the Ashoka Beach Resort is one of the famous in Kovalam. It is also among the major attractions of the city due to its easy access to the beaches.
Manaltheeram Ayurveda Beach Resort
With a picturesque view of the hills, Manaltheeram Ayurveda Beach Resort is an ideal resort for visitors seeking leisure time. Best in hospitality, the resort is equipped with tailored services and luxury cottages.
Beach Resorts on Varkala Beach
Blue Water Beach Resort
A private seaside resort nestled amid the beautiful surroundings of Varkala Beach, Blue Water Beach Resort is built in a traditional Kerala style with old wood of coconut trees that make the ambience of the resort more appealing and interesting.
Black Beach Resort
Black Beach Resort is one of the popular seafront resorts in Varkala. Equipped with well furnished rooms, suites and villas with all modern amenities, this resort is set amidst lush green surroundings and lovely beaches.
Beach Resorts on Bekal Beach
Vivanta by Taj
Vivanta by Taj offers the most amazing pleasures and experiences to the guests with facilities like swimming pool, restaurants, landscaped gardens, and spa. The guests are also entertained with activities like boating, rowing, kayaking, fishing, and trekking.
Nirvana @ Bekal
A luxurious resort located just five meters away from the Bekal Fort, Nirvana @ Bekal is one of the most sought after and traditionally planned hotels in Kerala that features an amazing multi-cuisine restaurant, an on-site shop, an Ayurvedic Centre for Massage & Spa, luxurious rooms, and scintillating pool.
Beach Resorts on Kannur Beach
Asokam Beach Resort
The architecture of Asokam Beach Resort mirrors the tradition of Kerala, and hence is one of the popular beach resorts. An ideal place to relax and rejuvenate, the resort is an ideal get away from the hectic city life.
Chera Rock Beach House
Located opposite Chera Kalle near Thottada Junction in Kannur, the Chera Rock Beach House offers guests a perfect ambience to assure a homely exotic experience. Apart from offering a traditional Kerala home like experience and warm and comforting hospitality to the guests, the Chera Rock Beach House also spread goodness with its Ayurvedic wellness Therapy & Yoga classes.