Kerala Hill Stations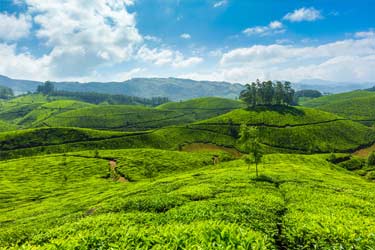 A state best known for its beautiful backwaters and bewitching coastal destinations, has a refined collection of hill stations. The number of hill stations Kerala has will amaze you. Going by an approximate count, there are over 50 hill stations in Kerala. The beautiful land offers myriad landscapes and experiences to enchant its visitors. These include the beautiful hill stations with expansive tea and coffee plantations, unending spice gardens and a panoramic view of the mist clad hills. Let's sneak a peek at some of the best hill stations of Kerala.
Munnar
Nestled at the concurrence of three rivers, Munnar is one of the most beautiful hill stations of Kerala. Noted for its exceptional shades of green, rotating tea planted hills, fog and more, Munnar can be named as the "Natural Spa of Kerala". The hill station makes for a perfect holiday destination. There are various places that surround Munnar like, Pothamadu, Devikulam, Pallivasal, Attukal, Nyaymakad and Mattupetty.
Wayanad
Situated in Northern Kerala, Wayanad is surrounded by lush green, sloping plains of spice plantations. The hill station offers a panoramic view with its undulating mist clad hills. Blessed with tropical forests, undulating slopes, flowing rivers, and a climate that promises to charm, Wayanad is regarded as one of the most popular tourist destinations of Kerala. It shares the borders with Coorg district of Karnataka on the north, on the south with Malappuram district and on the west with Calicut and Cannanore districts.
Thekkady
Situated in the Idukki district, Thekkady is a perfect place to refresh and relax, and discover the amazing wildlife of Kerala. Tourists here enjoy the peace and beauty of rich flora and fauna, away from the chaotic city life. One of the main attraction that allure tourists is the Periyar Wildlife Sanctuary (home of many elephants) here tourist can enjoy elephant safaris, boat cruise on the Periyar Lake and Trekking on Thekkady and Kurisumala as these spot is noted for large trek. Beside Periyar Wildlife Sanctuary, Mangala Devi Temple, Pandikuzhi, Vandiperiyar and Ramakalmedu are the most visited places in Thekkady.
Vagamon
Vagamon is one of the most scenic Greenfield hill stations in India with moderate climatic condition round the year. Perched high among green tea plantations and gurgling streams, the hill station ensures an exhilarating and soothing haven for trekkers and hikers. Elephants frolicking in pools are a common sight here. With a rich and varied range of flora and fauna Vagamon is ideal for all those seeking a travel experience with a difference.
Ponmudi
Ponmudi is a small scenic hill station in Kerala, noted for its breath taking sight, pleasant weather, and beautiful view of countryside with valleys, rivers, mountains and forests. This is an ideal place for the nature lovers and adventure lovers. Hiking, trekking etc are some of the adventure activities visitors can enjoy here. Agasthyarkoodam is the largest peak of the district with a beautiful glimpse of the spreading tea gardens.
Vythiri
Nestled at an elevation of about 1300m above sea level, Vythiri in Wayanad district of Kerala is well known for its picturesque beauty, temples and Neolithic age Edakkal caves. Its green clad rotating hills, and descending Kabini River, makes Vythiri a splendid holiday destination. Along with its scenic beauty, the tourists can also enjoy rafting, boating and angling activities.
Malampuzha
Situated in the Palakkad district, Malampuzha is famed as a perfect family holiday spot. This place is ideal for holiday destination, as it holds something for everyone. Right from the fun-filled amusement parks to rock gardens, ropeway to fish-shaped aquarium, Malampuzha takes care of all entertainment needs of family members. The main attractions of Malampuzha that attract tourists a lot is a distinct bird's glimpse , the sculpture of Yaskshi (an enchantress) and rock garden constructed by Padmasree Nek Chand Saini.
Silent Valley
Visit the Silent Valley for an unusual holiday experience. Unlike many of the commercial hill stations, much of the natural charm here is still well preserved today and it is also home to a number of rare species and the Kurumbar Tribes. The Silent Valley National Park is one of the most ecologically diverse areas on the planet. Experience over 34 species of mammals amongst which are the rare lion trailed macaque, Nilgiri Langur, Malabar giant squirrel and hairy winged bat.