Marari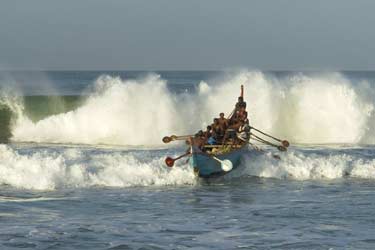 Marari Beach is a spectacular beach in the Alappuzha District of Kerala. It is an ideal place to visit with your family as it has everything for everyone. The eternal beauty of Marari Beach is matchless. Its swinging coconut palm trees and shimmering golden sands give you a perfect backdrop to spend your day amidst sun, sea and sand.
The name of Marari Beach originated from 'Mararikulum', a tiny fishing village on the Arabian Sea coast. People visit here to escape the city crowds and devote themselves to the wonders of nature all around.
Things to Do on Marari Beach
Marari is a quiet place to unwind and refuel your senses. People visiting here soak themselves into the serenity of its isolated sandy beaches. Take a leisurely walk along the coastline as there are numerous places to explore telling a lot about the cultures and history sprawling here. Those visiting here during August month must witness the exciting Snake Boat Races which remain prominent celebrations in Kerala. Adventure lovers can enjoy sea surfing, parasailing, water skiing and deep sea fishing here.
Places to Visit in and around Marari Beach
There is no dearth of attractions in and around Marari Beach. You can always visit deserted sandy beaches here for some vitamin Sea. Mararikulam Shiva Temple here is dedicated to Lord Shiva and Parvathy and is known for its architectural charms. Travellers also visit the Kokkamangalam Apostle St. Thomas Pilgrim Centre which holds great importance among the locals. St. Francis Church, an ancient church, remains one of the oldest churches of Kerala. It was set up in 1530 but still captures the heart of visitors with its unmatched architecture and seamless serenity.
Thiruvizha, just 5 km towards the south-west of Cherthala, also has a Shiva temple. Pilgrims visit here in large numbers to take blessings of the deity. ?Also, do not miss the Dutch Palace which was raised by the Portuguese in 1555. The palace is located in Mattancherry and shows exhibits like artefacts of early periods and dramatic and wooden ceilings. All the paintings showcased here depict stories of Hindu epic Ramayana.