Hotels in Cochin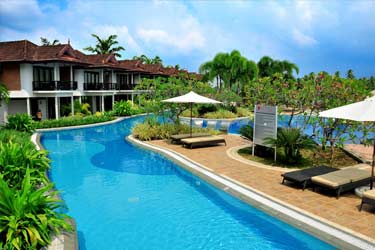 The queen of the Arabian Sea, Cochin evokes the images of Chinese fishing nets portraying beautiful shadows over the calm sea waters. It's where India collides with China, bringing a mix of cultures. Cochin has always remained a significant place among traders, explorers and travellers. It still preserves its age old ancient mosques, Portuguese houses and rustic villages. Cochin offers a serene stay to the tired souls and thus, has numerous hotel options to choose from.
A stay in Cochin promises ample of nature mixed with typical Kerala hospitality. Most of the popular hotels are sea facing with a wealth of nature adorning them. Ayurveda remains the biggest lure for everyone staying in Cochin finest homestays and heritage accommodation. Here you can indulge in authentic Ayurveda treatments performed by professionals.
Ramada Resort
Blessed with a serene and picture-perfect surrounding, Ramada Resort sprawls over 8 acres of land. It takes you away from the city crowd and charms you with its unmatched luxury and relaxing appeal. Here you can have the pleasure of staying in floating pool villas apart from pampering yourself at Kerala's biggest spa.
Aquatic Resort
It is not just a hotel, but a floating hotel. This 30 acres property is nestling with green belt of mangroves and coconut palms. It has been designed keeping in mind the comfort of guests and staff here has been trained well to fulfil your tiniest needs. Apart from submerged rooms, the resort also has a floating Infinity Pool.
The Poovath Heritage
This hotel is a Dutch palace from the colonial era. Here you can see a melange of cultures and history. The verandah of this heritage palace looks like a typical Kerala home which keeps you close the local flavours. The palace lets you enjoy activities like Fishing tour, sunset cruise at backwaters, cycling, and much more.
SAJ Earth Resort
SAJ Earth Resort remains a preferred choice among travellers as it is very close to Cochin International Airport. Rooms of this resort have wavefront view and they circle around a swimming pool. The resort lets you stay in the lap of nature and remains a perfect getaway for wonderful mountains and sun-kissed beaches.
Cherai Beach Resorts
Cherai Beach Resorts has just everything one can ask for in Kerala. This is a tropical paradise adorned with water canals and verdant-green paddy fields. Sit around your heritage cottages to spot pristine water streams flowing. Backwaters remain an added lure for guests staying here.
Other popular places to stay in Cochin are:
Bolgatty Palace Island
Lake Symphony Resort
Michaels Land Resort
Kadalkkara Lake Resort
Taj Malabar Resort & Spa