Chinese Fishing Nets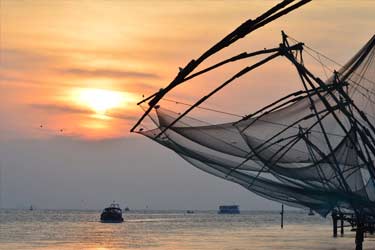 Chinese Fishing Nets, as the name suggests, are formally known as "shore operated lift nets". While such nets are used throughout coastal southern China and Indochina, in India they are mostly found in Kerala, where they have become a tourist attraction. Chinese fishing nets are to Kochi what the painted face of a Kathakali actor is to the state of Kerala in promoting tourism. These are shore operated lift nets operated by a group of fishermen in Kochi, Vypeen and Cherai in Kerala.
Origin
These nets were originally introduced by the Chinese explorer Zheng He as per the historic records. The antique fishing nets have become the signature style of Kochi in Kerala. Each structure is at least 10 meter high and comprises a plank with an extended net balanced over the sea, and large stones suspended from ropes as counterweights at the other end.
Usage of Chinese Fishing Nets
The Chinese fishing nets are described as the most non-violent form of fishing. So, how these nets work is that the anglers expect the fishes to swim into these immersed net, before they can lift up the catch. The net stays submerged in water till the fishermen are sure that enough fish have landed in it. It is then that the net is lifted, to trap the fishes.
The catch is usually modest, and these may be sold to passersby or tourists within minutes. Rocks of various weights are suspended from ropes of different lengths. As the net is raised, some of the rocks one-by-one come to rest on a platform thereby keeping everything in balance.
Tourism and Chinese Fishing nets
Chinese fishing nets are a symbol that describes Kochi, and have become a popular tourist attraction. The size and construction of these nets is quite elegant and the slow pace of their operation is quite hypnotic.
Current Scenario
These fishing nets are a great symbol of Indian culture and history. Most of the Chinese Fishing nets are owned and operated by private owners even though these are used as a symbol of Kerala Tourism. The private owners of the nets have been reinforcing the nets every now and then making them stronger and larger, losing the traditional style.