Periyar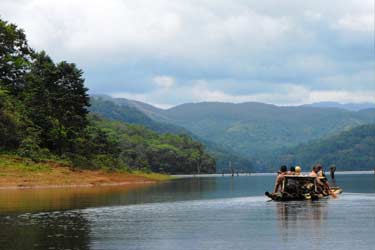 Periyar is a beautiful abode of nature in the Indian state of Kerala. Travellers visit here to immerse into its picturesque villages, spice gardens, rustic cottages, wildlife wonders and beautiful lakes. The place is extremely popular for being home to the Periyar Wildlife Sanctuary housing nature's rewards with great picturesque beauty and wealthy biodiversity.
Periyar Wildlife Sanctuary
Periyar Wildlife Sanctuary is a renowned wildlife heaven covering about 777sqkms in Thekkady. It remains naturally blissful with deep forests all around. It was declared a Tiger Reserve in 1978. Visit here and enjoy the area around by taking a boat ride. The most stunning inhabitant of the Sanctuary is the elephants apart from Wild Pigs, Mouse Deer, Dole or Barking Deer, Sambar, Gaur, Indian Wild Dog and Tiger.
Periyar River
This is perhaps the most beautiful place here to sit and enjoy sights of sprawling coffee and tea plantations. You can find many tea factories around the lake which add to its beauty. Travellers visiting here can spend hours enjoying its pristine water and cardamom plantations all around.
Pullumedu
Pullumedu is a rustic town of Periyar blessed with all kinds of plantations, flourishing trees, shrubs, vegetation, and much more. There is also a renowned Shree Ayyappa Temple here visited by all locals. Pullumedu is serene and can be visited to unwind and escape the busy world around. Dense forests of Pullumedu instantly make you fall in love with the place.
Spice Garden
Spice Garden remains the most visited place in Thekkady, the spice belt of India. Visit here and enjoy leisurely strolls through plantations of cardamom, pepper, coffee, clove, cinnamon and nutmeg. Natural beauty of these spice gardens is unmatched and gives you a fresh escape from the city life.
Mangala Devi Temple
Also visit the Mangala Devi Temple located within the Periyar Wildlife Sanctuary. The temple has a legend behind it and is visited by every local. The temple remains open only during the annual festival of Chitrapournami when pilgrims flock here to worship the goddess. Natural beauty surrounding the temple makes it even more fascinating and lures many to meditate here.