Kumarakom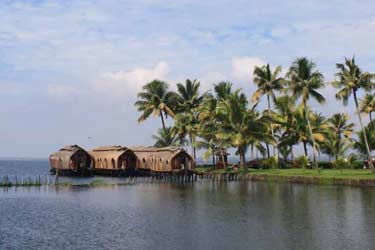 Kumarakom is a cluster of islands enjoying the backdrop of Vembanad Lake. Here you can find diverse wildlife and amazing flora. Kumarakom has some of the best facades of nature, including charming beaches, splendid houseboats, breathtaking snake boat races and delicious local food. This masterpiece has a rich culture which can be seen by visiting its beautiful attractions.
Vembanad Lake
Vembanad Lake, the largest lake in Kerala, is in Kumarakom. It is also India's longest lake sprawling from Kochi in north to Alleppey in south. The lake is home to numerous migratory birds that visit here from all over the world. Travellers can hire houseboats to enjoy the nature around the lake. Here fishing bestows great pleasure as over 150 varieties of fish are found here.
Aruvikkuzhi waterfalls
Cascading from 100 feet high, Aruvikkuzhi waterfalls is just 18 km from Kottayam. It has five steps which add to its beauty. The waterfall is nestling with rubber plantations which give it a beautiful surrounding. Travellers visit here to enjoy picnic with their loved ones. Travellers can also enjoy trekking to the top of the waterfall where St. Mary's Church is located.
Kumarakom Bird Sanctuary
Kumarakom Bird Sanctuary covers an area of 14 acre where uncountable migratory birds reside like Siberian cranes, teal, wood beetle, etc. You can spot all kinds of birds here, including cuckoo, kingfishers, water duck, owl, woodpeckers and egret. People visit here by hiring houseboats and motorboats to interact with nature and capture flamboyant birds chirping happily.
Kumarakom Beach
For beach souls nothing can be as pleasurable as Kumarakom Beach. Its pristine shores and serene ambience make a perfect combination to relax. ?Apart from unwinding along the coastline, travellers visit here for swimming, boating, wind surfing, skiing as well as parasailing. Explore the beauty of this beach by taking a houseboat. It has many resorts dotted around treating travellers with Ayurvedic massages and spa treatments.
Kumarakom Backwaters
Kumarakom backwaters remain the most soul soothing attraction here. Here you find the richness of flora and fauna. Rent a houseboat and spend days travelling through various stunning canals, pristine lakes and beautiful river. These houseboats look traditional but have all modern day amenities to give you a comfortable stay experience. Spend your time catching some fish in the solace of nature.