Backwater Resorts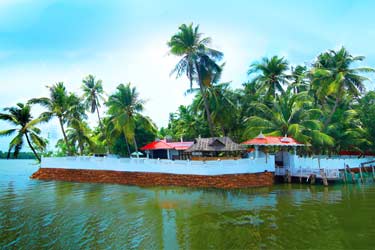 Formed by water of lakes, river, sea, and canals, the Backwaters in Kerala are without a doubt a magical experience. Backwater Resorts in Kerala are dreams come true for every water baby. Whether you are seeking a leisure holiday or you are here for your honeymoon or adventure, your visit to Kerala is incomplete without the Backwater tour.
The backwaters are a world of its own supporting a unique ecology, a languid lifestyle, adventures and the bliss of Ayurveda. Holidays cannot be anymore blissful than one spent in the backwaters of Kerala. Let's sneak a peek at some of the best Backwater Resorts of Kerala ?
Backwater Resorts in Alappuzha
Punnamada Backwater Resort
unnamada Backwater Resort is among the most beautiful backwater resorts of Kerala. An escape from the chaos of city-life, this resort offers cherished memories to its guests. The resort exudes a gentle charm of indigenous Kerala architecture along with modern luxuries. Ayurvedic spa, houseboat cruises, bicycles, etc are some of the facilities offered by the resort.
Lemon Tree Vembanad Lake Resort
The resort is counted among the best places for backwater tours. Situated on the shores of Vembanad Lake, the resort makes for a perfect holiday destination. Cheery setting, friendly smiles and the fragrance of lemon, welcomes guests for a delightful vacation. Holistic Healing and wellness, in house yoga, indoor and outdoor games, authentic gastronomy of Kerala delicacies are some of the facilities offered here.
Backwater Resorts in Kumarakom
Kumarakom Lake Resort
This 5 star resort is one of the heritage resorts in India. The soul stirring ambience of the resort is perfect for a family vacation. The rooms of the resort are elegantly designed keeping in mind the comfort of the visitors. Equipped with in-house Ayurvedic Spa named Ayurmana is famous for its Ayurvedic treatments.
The Zuri Kumarakom
The Zuri Kumarakom, sprawling on the banks of the Vembanad Lake in Kumarakom, is studded with almost all the luxury amenities and facilities. The resort offers rooms with customized set of facilities. Dedicated service, warm hospitality, delicious foods, and the aura of backwaters are some of the highlights of the resort.
Backwater Resorts in Alleppey
Deshadhan Backwater Resort
Deshadhan Resort is one of the best backwater resorts in Kerala. The resort has a rustic charm, perfect to escape the cities and relax in lap of nature. It is a fine blend of traditional hospitality and modern facilities. Crafted for ultimate luxury, the aesthetic view of the serene lake and the backwater in addition to amenities make for a perfect stay.
Vasundhara Sarovar Premiere
This resort is an ideal retreat to spend pleasant moments. Nestled amidst lush plantations and enticing stretches of silent backwaters, the resort promises the true essence and vibes of Kerala's heartwarming hospitality. Relaxing spa therapies, infinity pool, fishing expeditions, options for water sports, boat trips and a range of indoor and outdoor options are some of the major highlights of the resort.