Hotels in Alleppey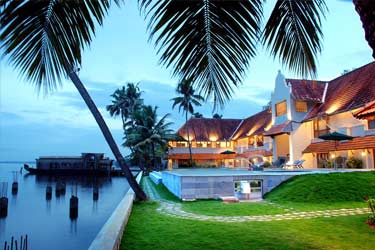 Alleppey is a paradise where you can relish the most beautiful charm of Kerala, its backwaters. Its enormous network of waterways gives ways to houseboats to access places where you cannot reach by road. People visit here to cherish its paddy fields, curvy rice barge, charming beaches, Ayurvedic massages and much more. Alleppey has a range of some beautiful attractions, including Alleppey Beach, Krishnapuram Palace, Karumadi Kuttan Statue, Ambalapuzha Temple, Marari Beach, Arthunkal Church and St. Mary Forane Church to name a few.
Being such a popular tourist destination, Alleppey has numerous hotels offering a world class stay experience with a rustic feel. Most of the hotels in Alleppey enjoy beautiful natural surroundings and offer rejuvenating Ayurvedic treatments.
Lemon Tree Vembanad Lake Resort
Lemon Tree Vembanad Lake Resort offers a dream stay to its guests with ample of recreation and relaxation. The resort is a luxurious retreat that keeps you close to nature. Spot beautiful birds from your room's window. It also has a fully air conditioned houseboat accommodation featuring two large bedrooms.? ?Stay here and indulge in detoxifying Ayurvedic spa treatments.
The Alleppey Beach Resorts
Sun, seafood, and sands make this resort a complete charmer. It looks like a traditional Kerala home which bestows a homely feel. The resort overlooks the sea and is perfect to stay close to all the wonders of nature. A stay here tells a lot about Kerala culture, tradition and heritage. It has a sea facing restaurant where you can sit for hours with winds caressing your face. ?The resort offers many excursions into the sea to the guests apart from a rejuvenating Ayurveda centre.
Lake Palace Resorts
The location of this resort has won it great fame. It enjoys proximity with a maze of lagoons, canals and waterways. Here you can enjoy amazing flora and fauna and it is perfect to indulge in a memorable houseboat experience. Glide over the beautiful backwaters while spotting rustic villages, elephants, migratory birds and verdant paddy fields. The resort features a traditional Kerala architecture and its floating restaurant serves gastronomic delights.
Pagoda Resorts
Enjoy the rustic charms of Kerala by staying in Pagoda Resorts. Its blissful ambience and warm hospitality instantly make you fall in love with it. Walk through its well manicured lawns, pebbled walkways and coconut groves perfect for unwinding. Its architecture shows a m?lange of ethnic Japanese pagoda designs and it remains an ideal abode for relaxation. ?Its Banana Leaf restaurant serves traditional Kerala food made using rich local spices.
Punnamada Resort
Stay close to the lake by booking the Punnamada Resort. Wake up to the views of gleaming water of the lake. Serenity around the resort is unmatched and it gives you a refreshing stay experience. Do indulge in relaxing Ayurveda spa treatments during your stay which are performed by professionally qualified therapists. The resort lets you choose from Standard, Lake View, Duplex and Pool Villas and also arranges backwater rides.
Other popular places to stay in Alleppey are:
The Kayaloram Lake Resort
Panoramic Sea Resort
Vasundhara Sarovar Resort
Kadavil Lakeshore Resort
Bamboo Lagoon Backwater Front Resort