Kerala Festivals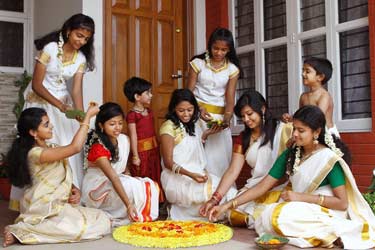 If colours and festivities attract you, then you must visit Kerala to experience its grand festivals. Also known as "God's own country", Kerala is a perfect option to fit in the preference of all kind of people. The state is rich in heritage and has numerous festivals celebrations which depict vibrant colours, have striking fragrances, and involve heart touching music, old norms and traditions. Boasting of multiple religions, Kerala hosts almost all Hindu, Christina and Muslim festivals with equal enthusiasm and charm.
Let's take a closer look at the Kerala fairs and festivals which are classified as religious festivals, harvest festivals, temple festivals and more.
Onam
Onam is the largest festival celebrated in Kerala. It is a traditional ten day harvest festival celebrated in the month of August to September. The first day, "Atham" and tenth day, "Thiruonam" are most significant of all.? The celebration of Onam involves flower decorations and fine designs of carpets of flowers in front of the house. Elephant processions, classical and folk music concerts,? classical and folk dance performances or Kathakali dances, cultural spectacle or contests, water carnivals, fireworks, sports, games, Vallamkali - the famous snake boat race, superb feast called Ona Sadya and much more enthrall not only Keralites or Indian tourists as well as foreign tourists to visit Kerala and be a part of Onam.
Vishu
It is the astrological New Year of Kerala and celebrated in the month of April. There are many traditional vibrant rituals and customs performed by Keralites on Vishu day with fun, pleasure and happiness but some of the major glimpse of Vishu festival are: Vishukani, Vishukaineetam and Vishu pulari.
Thrissur Pooram
One of the wonderful and vibrant temple festivals of Kerala, Thrissur Pooram is celebrated in the Malyalam month of Medam. During this time, the two traditional groups "Paramekkavu" and "Thiruvambadi" exhibit their grandiosity by contesting with each other in terms of the clothed elephants and umbrellas.
Theyyam Festival
Theyyam is one of the most popular festivals in Kerala, and also the most awaited. This 800-year-old festival flaunts folk dances and art. There are more than 400 varieties of Theyyam performances to pick from, of which the best ones are Kari Chamundi, Raktha Chamundi, Muchilottu Bhagavathi, and Wayanad Kulaven.
Aranmula Snake Boat Race
One of the divine and enjoyable religious fair held annually here is the Aranmula Boat Race. The fair includes 30-40 snake boats (named so because of their shape) racing against each other on Pampa River against the scenery of the 1,700-year-old Aranmula temple devoted to Sree Parthasarathy. Thousands of devotees gather around the banks of the Pampa River near the temple to witness the wonderful event.