Trivandrum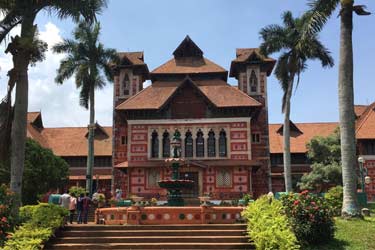 Trivandrum is the capital city of Kerala. It enjoys its borders with the Arabian Sea on one side and Western Ghats on the other. This adds to its natural beauty and makes it a must visit place in Kerala. There is absolutely no dearth of natural beauty in Trivandrum. Its beaches and backwaters seem to be come out straight from a paradise. Trivandrum is also blessed with many temples and ancient shrines which showcase the devotion of people here towards their cultures and religion. Trivandrum attracts streams of travellers from all over the world and portrays the most spectacular facades of nature.
Neyyar Dam & Wildlife Sanctuary
Neyyar Dam & Wildlife Sanctuary is about 32 km from Thiruvananthapuram. It spreads over 12,000 hectares of land blessed with verdant of vegetation. Flora and fauna in this Sanctuary is unmatched and gives a perfect background for day picnics amidst nature. Here you can explore a Watch Tower, a Deer Park, a Lion Safari Park and a Crocodile Rehabilitation Centre.
Sri Padmanabhaswamy Temple
The decadent gold-plated splendour of this temple lures travellers from near and far. It remains one of the 108 Divya Desams. The temple is dedicated to Lord Vishnu and Lord Padmanabha- a reincarnation of Lord Vishnu-is worshipped here by the pilgrims. The temple allows entry to only those who practice Hinduism. Tranquillity sprawls here everywhere and it is a must visit place to purify your soul.
Kanakakunnu Palace
This place has a great historical value. It is the place where classical Indian Dance performances were performed in the past. It was raised by Sree Moolam Thirunal and is now protected by the tourism department.
Poovar Island
The most enticing Poovar Island is 30 km away from Trivandrum. Blessed with immaculate charm, the island welcomes thousands of peace-seekers. This is also a fishing village and a peaceful island hugged by the Arabian Sea and the Neyyar River. Poovar Island is actually a window into heaven. Visit here to spend some time amidst crashing sound of waves and chirping of flamboyant birds.
Observatory
This Observatory stands about 60 metres above sea level. From here you can relish bird's eye views of the surrounding nature. It was constructed in 1837 and has won great popularity being India's most important astronomical centre. It features an 11-inch telescope, CCD camera, sun workstations and conducts many programs too.