Kerala Attractions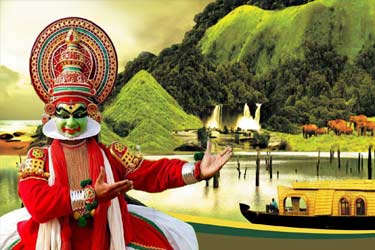 Kerala's art and architecture, Ayurveda and spa, verdant hill stations, palm-fringed backwaters, breathtakingly beautiful beaches, abundant wildlife, world class hotels and gracious hospitality makes it one of the most popular tourist places to visit in India. One of the best aspects of exploring Kerala is the actual travelling ? especially by boat, in the spellbinding Kuttanad region, around historic Kollam and Alleppey. Cruisers and beautiful wooden barges known as kettuvallams ("traditional rice barge") ply the backwaters, offering tourists a window on village life in India's most densely populated state.
Adventure in Kerala
From Bamboo rafting at Periyar Tiger Reserve, Thekkady to kayaking and canoeing, mountain climbing, trekking etc, one can enjoy all of this in Kerala. You can stay at tree-houses where you can spot the different animals from the vantage point. Wildlife Safari is another option for all the adventure enthusiasts.
Backwater Resorts in Kerala
Experiencing the backwaters in Kerala is without a doubt a magical experience. The backwaters are a world of its own supporting a unique ecology, a languid lifestyle, adventures and the bliss of Ayurveda. The rustic rural charm & the numerous amenities offered at the backwater resorts in Kerala are all that you need for a relaxing retreat in Kerala.
Chinese Fishing Net in Kerala
The Chinese Fishing Nets at Fort Kochi is a must visit attraction in Kerala. These nets are fixed on bamboo and used for fishing in a unique way. These nets are weighed by large stones tied to ropes. Operated by a team of six fishermen, the height of the Chinese fishing nets is around 10 meters, each sprawling to 20 meters over the water body.
Festivals in Kerala
Kerala is much famed for its boat races, including Rajiv Gandhi Boat Race, Nehru Trophy Boat Race, and Aranmula Vallamkali. Another major festival of Kerala is Onam, which is celebrated for ten days. The major rituals of the festival include flower decorations, rangoli making, elephant processions, classical and folk music concerts and dance performances etc.
Hill Stations in Kerala
The charming hill stations of Kerala filled with expansive tea and coffee plantations, unending spice gardens and a panoramic view are among the major tourist attractions. The famed hill station of Munnar is as popular for its romantic locale as for its thriving tea gardens. Wayanad, with its mist clad mountains and mountainous rivers, is another famous hill station in Kerala. Vagamon, Ponmudi, and Silent Valley are among other popular hill stations of Kerala.
Backwaters in Kerala
Alleppey Backwaters, Kuttanad Backwaters, Kumarakom Backwaters, Kasargod Backwaters etc are among the best backwater tours of Kerala. All destinations are equally romantic and laden with a rich natural beauty. No matter where in Kerala you choose to start your backwater tour from, you will be sure to find a wealth of wonderful experiences waiting for you.
Beaches in Kerala
Kerala is the perfect destination if you want to run away from the chaotic city life. Marari Beach, located on the way to Alleppey from Kochi, is a highly popular beach among both locals and travellers. Alleppey Beach is known for its backwaters, houseboats, fishing and coir industry. Those who wish to ditch the crowds can head for the Vizhinjam Beach known for the sights of fishermen busy venturing into the sea at dawn. Kovalam Beach is another famous attraction of Kerala that brings numerous adventure sport activities for the adventure lovers.
Beach Resorts in Kerala
The Beach Resorts of Kerala ensure the best of hospitality to tourists who are here for a vacation. Extremely popular with couples, they offer the most romantic and soothing experience at Kerala's gorgeous beaches. Vivanta by Taj in Bekal, The Leela Kovalam in Thiruvananthapuram, Niraamaya Retreats Surya Samudra in Kovalam etc are among the best beach resorts of Kerala.
Wildlife in Kerala
Kerala is home to numerous wildlife sanctuaries. The Chinnar Wildlife Sanctuary houses 225 species of birds. Eravikulam National Park in the Idukki district is also frequented by tourists due to its beautiful vistas, more than 25 species of mammals and 132 kinds of birds. Bird watchers can head to the Kumarakom Bird Sanctuary featuring some beautiful birds, like egret, cormorant, Brahminy kite, waterfowl and heron.