Kerala Wildlife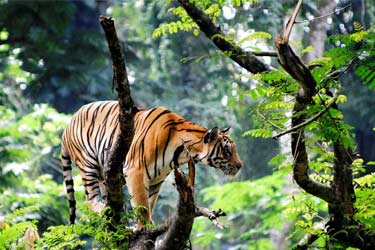 Famed for its beautiful beaches, backwater cruises and Ayurveda therapy, Kerala is also home to many wildlife sanctuaries. Known as the "God's own country", Kerala offers the richness of Mother Nature along with amazing wild creatures and alluring forests. Kerala is known for its natural beauty, but let's explore more of its wildlife. The lush green landscape of Kerala houses 5 National Parks and 13 wildlife sanctuaries. From tigers to wild elephants and exotic birds, wildlife in Kerala is a major draw for tourists. Innumerable wildlife enthusiasts flock to Kerala to witness these beautiful animals frolicking in their natural habitat.
Periyar Wildlife Sanctuary
Situated in the hills of the Western Ghats, the Periyar Wildlife Sanctuary also known as the Thekkady Wildlife Sanctuary is among the most popular tourist destinations of Kerala. This wildlife sanctuary is home to several endemic, rare and endangered species of animals. With 1800 flowering plants, 171 grass species, 143 species of orchids, 35 species of mammals and 265 species of birds, this sanctuary is definitely a crowd puller.
Aralam Wildlife Sanctuary
The Aralam Wildlife Sanctuary plays host to an exotic array of flora and fauna, and makes for a visual treat to the onlookers. The entire area is covered in tropical and semi evergreen forests and is a truly riveting sight. One can spot herds of elephants, gaur, sambar, spotted deer, barking deer, Nilgiri Langur, Hanuman Langur and the Malabar Giant Squirrel here. The wildlife sanctuary is also famous for the vast amount of butterfly species found here. The forest is peaceful and many trekking options are available as well.
Parambikulam Wildlife Sanctuary
Located in the Palakkad district of Kerala, the Parambikulam Wildlife Sanctuary is blessed with rich flora and fauna. The sanctuary offers excellent opportunities to experience the wildlife of Kerala in its natural habitat. This sanctuary is now under consideration of the UNESCO World Heritage Committee to be declared as a World Heritage Site. It is home to 39 species of mammals, 16 species of amphibians, 268 varieties of birds, 61 species of reptiles, 124 types of butterflies, and? indigenous tribes that have made their colonies in the sanctuary.
Eravikulam National Park
Munnar has always attracted visitors from around the world due to its natural splendor. The famous Eravikulam National Park here is home and sanctuary of the Nilgiri Tahr. To visit this place and witness the exotic animals is a relief, especially at a time when different species are disappearing off the face of the planet. One can view rare terrestrial and epiphytic orchids and beautiful wild balsams along with the Nilgiri Langur, leopards and the Indian Bison as well. The rare flora and fauna present in the park also attract visitors.
Chinnar Wildlife Sanctuary
The Chinnar Wildlife Sanctuary is distinct from other sanctuaries due to its thorny scrub forests. The sanctuary has peculiar vegetation due to the fact that it receives rain only for 48 days in the year. Famous for its sandalwood forests and waterfalls, the Chinnar Wildlife Sanctuary too is under consideration for being declared as a World Heritage Site. There are watch towers inside the sanctuary from where one can observe animals, and can also enjoy nature walks, trekking or camping inside the sanctuary.
Muthanga Wildlife Sanctuary
ich in bio diversity, the Muthanga Wildlife Sanctuary is an integral part of the Nilgiri Biosphere Reserve. It has a large population of pachyderms and has been declared a Project Elephant site. The attraction of this wildlife sanctuary is that elephants roam freely here and tigers are also sighted occasionally as well. Various species of deer, monkeys and birds live here. Elephant rides can be arranged by the Forest Department.
Neyyar Wildlife Sanctuary
The Neyyar Wildlife Sanctuary is not as huge as other wildlife sanctuaries in Kerala, but houses huge range of wild animals, including tigers, leopards, sloth bears, elephants, sambhars etc. The sanctuary also houses elephant rehabilitation centre, deer rehabilitation centre, and also a crocodile farm that is home to 20 mugger crocodiles.