Varkala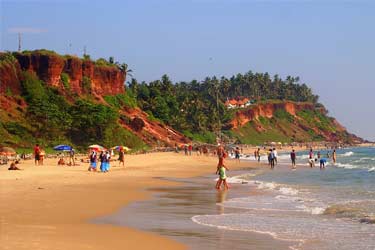 Varkala is all about natural fisheries and springs. This tiny coastal town has all the wonders of nature like beaches, hills and lakes. This little heaven bestows you the freshness of air and a string of beaches to unwind. Visit here and leave all your worries as you can see beautiful green vistas all around, making you fall deeper and deeper into love with this place.
Varkala Beach
Also known with the name of Papanasam Beach, Varkala Beach is perfect for sunbathing and swimming. Here you can unwind amidst lush green landscapes and golden sands. You can find small shops and flea markets around the beach where you can buy beautiful jewellery and beachwear. There is also a fresh water spring here at a cliff where people visit for a holy dip as it is believed that the water here washes away all the sins.
Edava Beach
Unspoiled beauty of this beach attracts streams of travellers here. Its virgin stretches are perfect to enjoy leisurely walks while gazing at perfect looking sunsets. Here you will find a blue lagoon where both sea and backwaters run hand in hand. This is your place for enjoying the pleasures of backwaters of Kerala and getting lost in the lap of nature.
Sivagiri Mutt
Religious souls can visit the Sivagiri Mutt, one of the popular ashrams of Shri Narayana Guru. The ashram hosts the celebrations of Guru Deva Jayanti and the Guru Deva Samadhi. The place bestows peace and promotes the idea of 'One Caste, One Religion, One God'.
Anjengo Fort
Anjengo Fort is 12 km off Varkala at Anjengo. It was constructed in 17th century and is at present protected by the National Heritage monuments. In the past it served as the first signalling station for ships coming from England. It also has a cemetery with the mortal remains of the then residents of the fort.
Kaduvayil Juma Masjid
Kaduvayil Juma Masjid is a major shrine in Varkala. It is dedicated to Kaduvayil Thangal who was a Muslim saint. The masjid is one of the main Sunni pilgrimage centres bringing not only Muslims but people of other faiths too.