Munnar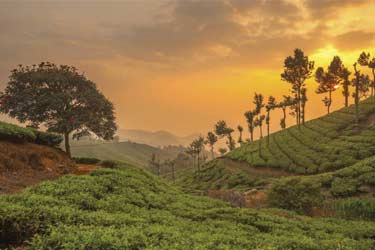 Munnar lies where the mountains kiss the clouds, rivers wash the land, tea plantations make the world look green and rare flora and fauna make you wide eyed. This purest hill station of Kerala was the summer resort of the British and today acts as a beautiful escape for those seeking an escape from summer heat and worldly chaos.
Atukkad Waterfalls
Atukkad Waterfalls remain a must visit place in Munnar bestowing visitors with seamless serenity. The water of this waterfall is chilling and is perfect to take a dip during summer months. Its surroundings are serene and good enough to get lost in the wonders of nature.? ????
Echo Point
People visit here to spot the rarest Kurunji flower. The place offers bag full of natural wonders and supports the phenomenon of echo. It also has a picturesque lake beside a hillock where you can rest and cherish the nature around. Do not miss a chance to click some amazing pictures here and spend a day to enjoy camping. ?
Eravikulam (Rajamalai) National Park
This protected forest stands at an elevation of 2000 meters. Here you can spot endemic as well as rare species of flora and fauna. Some of the commonly found animals in the park include Tiger, Leopard, Nilgiri Tahr, Gaur, Indian Muntjac and Sambar Deer. Do carry your camera to capture the wild animals playing happily in their natural habitat.
Devikulam
This is a beautiful hill near Munnar. Its stunning valleys and high imposing mountains are enough to attract travellers. People visit here to enjoy cool breeze and striking vistas. It is a heaven for photographers seeking some perfect pictures of Mother Nature.
Rajmala
This is another hill station 8,983 feet above sea level. It is untouched by the fake layers of the modern world and acts home to the rare species of Nilgiri goat also known as Nilgiri Tahr. Just walk around and feel the cool breeze caressing your soul.
Chithirapuram
Chithirapuram is a popular place among the locals of Munnar due to the Pallivasal Hydel Power Project. It is the first hydroelectric project in the state and takes you back into the times of tranquil cottages, playgrounds and courts. The sprawling tea plantations here teach you a lot about the production of tea and taste freshly made flavoursome tea.